SBS Modified Bituminous Membrane Sheet Description
SBS Modified Bitumen Roll Sheet is made using SBS (Best Bitumen Modifier) polymer modified bitumen and polyester film in rolls of 1 mm wide and 4 mm thickness. The dimensions of each roll is 10 square Meter.
The combination of bitumen modified with SBS polymer and tear-resistant polyester film has made waterproofing unique and has unique properties that make it completely distinct from similar products, including Characteristics are the ability to withstand cold and excellent flexibility in cold, mechanical properties and remarkable tensile strength, excellent adhesion to a variety of building materials and a very important self-repairing property. waterproofing is the best option for insulating sensitive and important structures.
Huei Jie Oil  Bitumen Roll sheet is available on a variety of finishes in silica powder, mineral aggregate, aluminum foil and polyethylene film on request.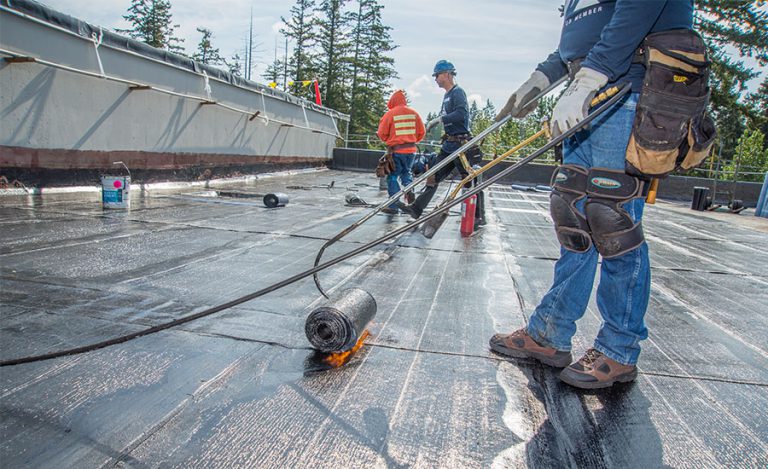 SBS Modified Bitumen Roll Sheet Characteristics
Distilled bitumen modified with high percentage of SBS elastomeric polymers that ensure excellent properties of adherence, elasticity and extreme flexibility at low temperatures. Due to the chemical properties of thermo-plastic rubber, the membrane should be protected against direct sunlight which triggers a process of early aging.
SBS Modified Applications
Exceptional performance in applications requiring above average resistance to repeated thermal mechanical action. Metal, prefabricated flat, curved or saw tooth roofs subject to cyclic movements or considerable dimensional variations. Also widely used in underground tanking to waterproof basements and foundations, especially in areas with high humidity in the ground or close to the sea.
Advantages of SBS Modified Bitumen Roll Sheet
Compatibility with all types of flat roofing applications, but can also be used to waterproof car park decks, bridge decks, green roofs etc.
Resistance to the most extreme weather conditions such as high and low temperatures, rain, snow, ice and the freeze-thaw process.
Life expectancy of SBS bitumen membrane is remarkable, even after ageing it retains its pliability and elasticity, making it the ideal flat roof       solution.
Dimensional stability is provided by the high quality SBS bitumen blend together with a high performance reinforcement, enabling the waterproofing system to accommodate building movement.
Installation is simple and can be achieved through a variety of methods; torch-applied, mechanically fixed or adhered, depending on the specification and suitability.
Security and peace of mind for the building owner is achieved through the installation of a robust, multilayer, built up felt SBS modified bituminous waterproofing system.
High resistance to mechanical damage and puncturing in comparison to alternative flat roof coverings. Extreme resistance variants are available depending on the traffic requirements of the surface.
Excellent adhesion to the substrate on a flat roof installation (demonstrated by peel testing)
Quality control is increased when installing factory produced rolls of SBS modified bitumen.
In most cases, when a bituminous flat roof system reaches the end of its service life, a single layer overlay can be installed over the top of the existing system to extend and renew the longevity of the waterproofing system.
Huei Jie Oil Guarantee
Huei Jie Oil Bitumen Roll Sheet Guaranteed by more than 25 years in the field, excellent aging properties, extensive thermal operating range (-20/+100), versatile and reliable at any latitude, fast and easy to apply even on structures with complex shapes.
Huei Jie Oil SBS Modified Membranes
| | | | | | | | | | | | | | | |
| --- | --- | --- | --- | --- | --- | --- | --- | --- | --- | --- | --- | --- | --- | --- |
| SBS Modified by Thickness | Unit | TSG 2 | TSG 3 | TSP 3 | TSP 4 | TSP 3S* | TSP 4S* | TSAL2 | TSP3 AL | TSP4 AL | TSP3 F* | TSP4 F* | TSP40A | TSP50A |
| Reinforcement | | GlassFiber | GlassFiber | Polyester | Polyester | Polyester | Polyester | Aluminum | Polyester | Polyester | Polyester | Polyester | Polyester | Polyester |
| Thickness | mm | 2 | 3 | 3 | 4 | 3.5 | 4.5 | 2 | 3 | 4 | 4 | 4 | 3,5 | 4,5 |
| Flow Resistance | °C | 100 | 100 | 100 | 100 | 100 | 100 | 100 | 100 | 100 | 100 | 100 | 100 | 100 |
| Cold Bending | °C | -20 | -20 | -20 | -20 | -20 | -20 | -20 | -20 | -20 | -20 | -20 | -20 | -20 |
| Tensile Strength | (N/50mm) (md/cmd) | 400/300 | 400/300 | 800/600 | 800/600 | 800/600 | 800/600 | NA | 800/600 | 800/600 | 800/600 | 800/600 | 800/600 | 800/600 |
| Elongation | % (md/cmd) | 2/2 | 2/2 | 35/35 | 35/35 | 35/35 | 35/35 | NA | 35/35 | 35/35 | 35/35 | 35/35 | 35/35 | 35/35 |
| Upper Surface Coating |  – | PE | PE | PE | PE | Slated | Slated | PE | Aluminum | Aluminum | Fine Sand | Fine Sand | Slate | Slate |
| TDS | | TSG 2 | TSG 3 | TSP 3 | TSP 4 | TSP 3S* | TSP 4S* | TSAL2 | TSP3 AL | TSP4 AL | TSP3 F* | TSP4 F* | TSP40A | TSP50A |