Slack Wax Definition
Slack Wax is mixture of paraffin wax and oil originated from petroleum crude oil. Paraffin wax refers to a mixture of alkanes within the Carbon no in 20 ≤ n ≤ 40 ranges. It is a byproduct derived in the process of producing Lube cut. During paraffin wax production, Slack wax is feuded into the system as raw material which is finally processed into different grades of Paraffin Wax after performing the refining processes, defiling and bleaching. The oil extracted during the defiling process, is a byproduct called 'residue wax' (aka Foots Oil). Slack wax is naturally brown in color, ranging from 10% oil content to 35%. Slack Wax can be classified as Heavy and Light. Heavy has melting point of 62-66°C and Light has melting point of 47-53°C.
The traditional usage of this product is in the production of fully refined paraffin wax which is the main raw material for candle manufacturing. Slack wax other major usage are for particle board and medium density fiber board, cable filing compound, paraffin wax, matches, candles, rust protective products and moisture vapor barriers.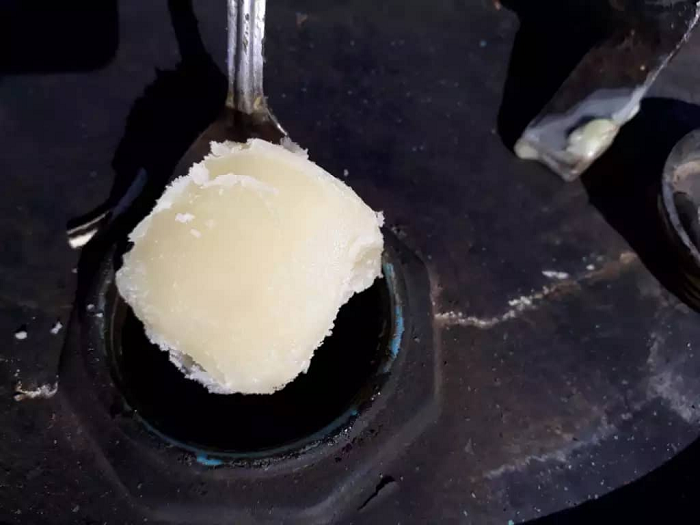 Slack Wax Applications
Paraffin manufacturing.
Fuel industries.
Emulsions.
Construction board.
Candles.
Rust protective products and moisture vapor barrier.
Polishes.
Inks.
Carbon paper and externally can be applied as good dust suppressants or controlled-release agents for various chemical and fertilizers.
Packing
Kind of Packing
Net Weight  
Net  Weight of Empty
Gross Weight
No. of Drum in 20ft
Net Weight in 20ft
Gross Weight in 20ft
Tolerance :  +/-5%
Drum
175KG
17-18 KG
193 KG
80
14   MT
15.440 MT
Flexi Tank
19 MT
100 KG
19.100 MT
1
22.000 MT
22.100    MT
Types Of Slack Waxes Hjoil Provides
1- Light Slack Wax 10% Oil Content
| | | | |
| --- | --- | --- | --- |
| CHARACTERISTIC | Unit | Result | Test method |
| Kinematic viscosity @100 ˚C | Cst | 5 | ASTM D-445 |
| Flash point | ˚C | 230 | ASTM D-92 |
| Specific gravity 25 ˚C/25 ˚C | – | 0.80 | ASTM D-190 |
| Oil Content | %wt | 8-10 | ASTM D-721 |
| Congealing Point | ˚C | 55 | ASTM D-937 |
| Color | – | 3 | ASTM D-1500 |
| Drop Melting Point | ˚C | 57 | ASTM D-127 |
2- Light Slack Wax 30% Oil Content
| | | | |
| --- | --- | --- | --- |
| CHARACTERISTIC | Unit | Result | Test method |
| Kinematic viscosity @100 ˚C | Cst | 7-8 | ASTM D-445 |
| Flash point | ˚C | 230 | ASTM D-92 |
| Specific gravity 25 ˚C/25 ˚C | – | 0.78 | ASTM D-190 |
| Oil Content | %wt | 30-35 | ASTM D-721 |
| Congealing Point | ˚C | 50 | ASTM D-937 |
| Color | – | 4 | ASTM D-1500 |
| Drop Melting Point | ˚C | 52 | ASTM D-127 |
3- Heavy Slack Wax 12% Oil Content
| | | | |
| --- | --- | --- | --- |
| CHARACTERISTIC | Unit | Result | Test method |
| Kinematic viscosity @100 ˚C | Cst | 7 | ASTM D-445 |
| Flash point | ˚C | 250 | ASTM D-92 |
| Specific gravity 25 ˚C/25 ˚C | – | 0.820 | ASTM D-190 |
| Oil Content | %wt | 12 | ASTM D-721 |
| Congealing Point | ˚C | 50 | ASTM D-937 |
| Color | – | YELLOW | ASTM D-1500 |
| Drop Melting Point | ˚C | 50 | ASTM D-127 |
4- Heavy Slack Wax 35% Oil Content
| | | | |
| --- | --- | --- | --- |
| CHARACTERISTIC | Unit | Result | Test Method |
| Oil content | %wt | 35 | ASTM: D-721 |
| Drop Melting Point | ◦C | 65 | ASTM: D-127 |
| Congealing Point | ◦C | 61 | ASTM: D-937 |
| Flash Point | ◦C | 265 | ASTM: D-92 |
| Kinemeatic Viscosity @100◦C | Cst | 8 | ASTM: D-445 |
| Specific Gravity 25◦C / 25◦C | – | 0.855 | ASTM: D-190 |
| Colour | – | 2.0 (Brown) | ASTM: D-1500 |